Recipe book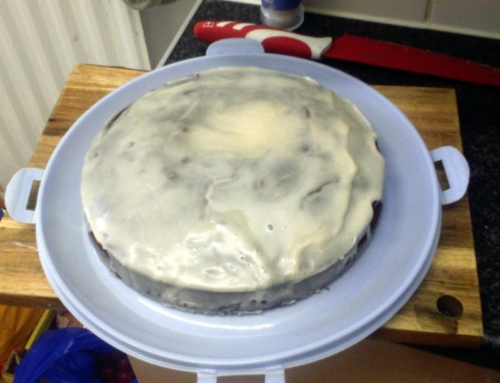 I know what it looks like! But it's legit icing and this cake, although not very good, raised $$ for refugees

Switched to a vegan diet in June 2020, some thoughts: like you can't simply replace meat in 'meat and two veg' with something else when you go vegetarian, you can't just adapt vegetarian meals to be vegan. Well, you can but you will always feel like the poor cousin at the dinner table. It all becomes about substitutes and exclusions. Instead you need a full paradigm shift which takes time. I have a 70s recipe book that suggests making a vegetarian turkey for Thanksgiving out of tofu and decorating the tail with real turkey feathers(?!). Now veganism is in that early developmental stage with lots of bad craziness but interesting new ideas are emerging fast which is really cool.

The goal: to collect 50 recipes that actually work and cook them a lot, fine-tuning along the way. This is a total mess atm but I'm working on it. I'll probably reorganize it by source of protein.
Legumes
Title
Author
Source of recipe
Notes
Beetroot with creme fraiche and dill, boiled rice
Rose Elliot
Learning to Cook Vegetarian (book)
Try adding chickpeas to rice for extra protein. Might work?
Butter bean curry
Rose Elliot
Link
N/A, just do it.
Gazpacho
Gordon Ramsey
Link
Blend it or it's more like eating a salad. Eat with bread. Still puzzling over a way to add protein. Maybe steamed and finely cubed tofu w/ kala namak would work.
Hare Krishna oven rice
7Ravioli, a blog
Link [in Lithuanian]
Cut the amount to 2/3. Make a salad/fresh chutney to go with it, something juicy. Add chickpeas to rice for protein.
Pasta al pomodoro
Felicity Cloake
Link
360g is way too much pasta. I prefer to just make the sauce and boil some pasta for each meal. A serving of 60-70g (dried weight) works well for me. Use good tomatoes here, it makes a difference. Cirio or Mutti or similar. Use half the oil, you can add extra virgin olive oil at the table if you wish. For protein, try adding nut/bean balls on top of the sauce.
Pea and leek soup
Timothy Duffy
Link
If cooking for 2, use half the peas or you will eat this until Christmas. If cooking for 1, even less peas (I find 1/2 of the peas slightly too much for one pax). Smoked tofu works ok instead of prosciutto. Smoked water maybe would be good too. Smoked salt?
Sour cucumber soup
7Ravioli, a blog
Link [in Lithuanian]
Use veg stock instead of bone broth and fry a chopped onion first. Add three potatoes and one carrot, cubed. Add 1/3 of a mug of (pearl) barley, one bay leaf, pour in the stock (one litre I think). Sneak in a handful (1/3 cup was too much) of lentils for protein. Season. 10 mins later add two or more sour cucumbers, finely cubed. Asda sells sour cucumbers, so do Eastern European shops.
Watercress Soup
Rose Elliot
Learning to Cook Vegetarian (book)
Add 1/4 cup of lentils for protein. If watercress has thick stems, add them separately from the leaves - 5min to end of cooking.
White beans with greens
The Greek Vegan, blog
Link
Eat w/ crusty bread. Lemon is not listed amongst the ingredients but should be.
Soups
| Title | Author | Notes |
| --- | --- | --- |
| Asian vegetable broth | Jamie Oliver, my mother denies having had a crush on him | Two ways to do this: 1) Use 1l of stock; 2) Use no stock, 1.5x aromatics, double the simmering time. Strain the aromatics before adding stuff. Either way: add tofu (or if that's not an option - chickpeas) for protein. Can also add noodles. Mint can replace shiso cress, lemon rind can replace lemongrass if need be. Upd: been having issues with this lately, a grassy-oily residue that coats the tongue which I've traced back to lemongrass (also happens when making Tom Yum. Why? How do I fix this? |
| Beetroot soup | Rose Elliot whose Learning to Cook Vegetarian taught me to cook | Recipe in the book. Don't add extra beetroot. |
Salads
| Name | Author | Notes |
| --- | --- | --- |
| Thai salad | Nobody, had something like that in a cafe in Chiang Mai | Rice noodles, chilli, lime, peanuts, fresh mint, soy sauce, fish sauce (there's a vegetarian version in shops), sugar, pepper, tofu, cucumber. I fry the tofu, slice cucumber and pepper, toast the peanuts. Cook the rice noodles by pouring some boiling water over (you want really fine vermicelli type noodles). Made a dressing of fish sauce, soy sauce, finely chopped mint, a pinch of sugar, lime juice and finely chopped chilli. Mix the lot. |
| Vegetarian salade niçoise | Rose Elliot, glory to thy name | Recipe in the book. Half the amounts though, it's bloody massive. |
Pasta, dumplings, bread & pastry
| Name | Author | Notes |
| --- | --- | --- |
| Chinese dumplings | I don't remember what recipe I used | But basically it's a mix of flour and hot (but not boiling) water, which allows you to roll the dough paper thin. I stuff them with a vegetable mix I cook ahead or whatever. Make double the amount, freeze half. Good steamed, steamed and fried, boiled, baked, etc. |
Grains
| Name | Author | Notes |
| --- | --- | --- |
| Tomato cous cous w/ harissa | Nigel Slater and it's good that no one can hear me saying 'Nige'. | Vulgar works too but is a bit faffier than cous cous. |
Other
| Name | Author | Notes |
| --- | --- | --- |
| Favourite potato mash | Perch | Mash potatoes with tahini, mix in edamame beans. Lots of protein and the house smells amazing. |